Zarevok
"As commander of the Northern Riders, the name Zarevok intimidates even the fiercest of foes."
Special Ability
While equipped, increases Player Attack by X against monsters, based on level.
General Type:
Balanced
Origin:
Land of Earth
Recruitment Cost
Upkeep Cost
25000
0
Stats & Levels
Edit
Level
Att
Def
Hero XP
Ability
1
3
2
0
+5 Attack vs Monsters
2
4
3
1,200
+10 Attack vs Monsters
3
5
4
2,400
+15 Attack vs Monsters
4
6
5
3,600
+20 Attack vs Monsters
5
7
6
4,800
+50 Attack vs Monsters
6
8
7
6,000
+80 Attack vs Monsters
7
9
8
7,200
+110 Attack vs Monsters
8
10
9
29,400
+140 Attack vs Monsters
9
11
10
38,400
+170 Attack vs Monsters
10
12
11
48,600
+200 Attack vs Monsters
11
13
12
60,000
+230 Attack vs Monsters
12
14
13
72,600
+260 Attack vs Monsters
13
15
14
86,400
+290 Attack vs Monsters
14
16
15
101,400
+320 Attack vs Monsters
15
17
16
117,600
+350 Attack vs Monsters
16
18
17
135,000
+380 Attack vs Monsters
17
19
18
153,600
+410 Attack vs Monsters
18
20
19
173,400
+440 Attack vs Monsters
19
21
20
194,400
+470 Attack vs Monsters
20
32
31
216,600
+500 Attack vs Monsters
21
33
32
240,000
+530 Attack vs Monsters
22
34
33
264,600
+560 Attack vs Monsters
23
35
34
290,400
+590 Attack vs Monsters
24
36
35
317,400
+620 Attack vs Monsters
25
47
46
345,600
+650 Attack vs Monsters
26
48
47
375,000
+680 Attack vs Monsters
27
49
48
405,600
+710 Attack vs Monsters
28
50
49
437,400
+740 Attack vs Monsters
29
51
50
470,400
+770 Attack vs Monsters
30
62
61
504,600
+800 Attack vs Monsters
31
63
62
540,000
+830 Attack vs Monsters
32
64
63
576,600
+860 Attack vs Monsters
33
65
64
614,400
+890 Attack vs Monsters
34
66
65
653,400
+920 Attack vs Monsters
35
87
86
693,600
+950 Attack vs Monsters
36
88
87
735,000
+980 Attack vs Monsters
37
89
88
777,600
+1010 Attack vs Monsters
38
90
89
821,400
+1040 Attack vs Monsters
39
91
90
866,400
+1070 Attack vs Monsters
40
117
116
912,600
+1100 Attack vs Monsters
41
118
117
960,000
+1130 Attack vs Monsters
42
119
118
1,008,600
+1160 Attack vs Monsters
43
120
119
1,058,400
+1190 Attack vs Monsters
44
121
120
1,109,400
+1220 Attack vs Monsters
45
147
146
1,161,600
+1250 Attack vs Monsters
46
148
147
1,215,000
+1280 Attack vs Monsters
47
149
148
1,269,600
+1310 Attack vs Monsters
48
150
149
1,325,400
+1340 Attack vs Monsters
49
151
150
1,382,400
+1370 Attack vs Monsters
50
177
176
1,440,600
+1400 Attack vs Monsters

Requires 5 Hero, 25 Blue, 5 Red, 5 Green Crystals

51
178
177
1,500,000
+1430 Attack vs Monsters
52
179
178
1,560,600
+1460 Attack vs Monsters
53
180
179
1,622,400
+1490 Attack vs Monsters
54
181
180
1,685,400
+1520 Attack vs Monsters
55
207
206
1,749,600
+1550 Attack vs Monsters
56
208
207
1,815,000
+1580 Attack vs Monsters
57
209
208
1,881,600
+1610 Attack vs Monsters
58
210
209
1,949,400
+1640 Attack vs Monsters
59
211
210
2,018,400
+1670 Attack vs Monsters
60
262
261
2,088,600
+1700 Attack vs Monsters
61
263
262
2,160,000
+1730 Attack vs Monsters
62
264
263
2,232,600
+1760 Attack vs Monsters
63
265
264
2,306,400
+1790 Attack vs Monsters
64
266
265
2,381,400
+1820 Attack vs Monsters
65
317
316
2,457,600
+1850 Attack vs Monsters
66
318
317
2,535,000
+1880 Attack vs Monsters
67
319
318
2,613,600
+1910 Attack vs Monsters
68
320
319
2,693,400
+1940 Attack vs Monsters
69
321
320
2,774,400
+1970 Attack vs Monsters
70
372
371
2,856,600
+2000 Attack vs Monsters
71
373
372
2,940,000
+2030 Attack vs Monsters
72
374
373
3,024,600
+2060 Attack vs Monsters
73
375
374
3,110,400
+2090 Attack vs Monsters
74
376
375
3,197,400
+2120 Attack vs Monsters
75
427
426
3,285,600
+2150 Attack vs Monsters
76
428
427
3,375,000
+2180 Attack vs Monsters
77
429
428
3,465,600
+2210 Attack vs Monsters
78
430
429
3,557,400
+2240 Attack vs Monsters
79
431
430
3,650,400
+2270 Attack vs Monsters
80
482
481
3,744,600
+2300 Attack vs Monsters
Set
3
6
+2 Max Stamina
Max Level
Full Set
485
487
3,744,600
+2300 Attack vs Monsters
Missions & Quests
Edit
Associated Equipment
Edit

Meat Cleaver (44 Attack, 22 Defense) - Weapon
Item Bonus: +3 attack, +3 defense to Zarevok


Zarevok Plate (4 Attack, 9 Defense) - Armor
Item Bonus: +3 defense to Zarevok


Zarevok Defender (5 Attack, 9 Defense) - Off-hand
Item Bonus: +2 max stamina when Zarevok is equipped

Additional Info
Edit
War of the Red Plains
Edit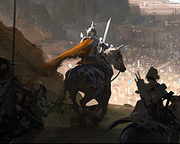 It seems that Zarevok may have played a role on the side of Valeria during the fight of the War of the Red Plains. He may even be visible in the image:
War of the Red Plains says:
"Is that Zarevok? That is a BIG sword!
Zarevok is the twin brother of Elin.
The Meat Cleaver was the rank 5 prize in the first Arena season. "Rank 5" being the reward for finishing in the top 6-20% of the tournament.
Zarevok is known to be especially potent vs the non-Bahamut dragons and some boss monsters.
Zarevok is considered to be a fan-favorite, and he has received several 'special treatments' as a result:

His twin sister Elin was introduced as a limited time alchemy general.
Both Zarevok, Elin, and the Meat Cleaver play a role in the lore of the Alpha Mephistopheles battle.
Dialogue for the Quest Gift of Earth was altered recently to include dialogue for Zarevok:
Zarevok: Talk too much! Zarevok SMASH YOU!
Etymology
Edit
Zarevok may be a reference to Sarevok a main boss from Baldur's Gate 1 (for the PC), a brutish warrior son of the god of murder Bhaal.
Extra bonus vs. monsters at higher levels seems to have been implemented recently (perhaps when Sorkan was added?)