For the Castle Age monster of the same name, see Thanatos, the Reborn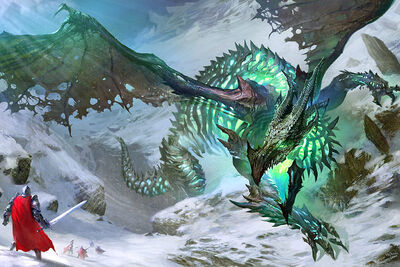 Thanatos, the Reborn can be summoned if you have the 2 Essences of Undeath, which comes from asking your friends for a gift

.

You have 168 hours to defeat Thanatos before he flees.

Basic Information
Level Tier: 41-80
Classification: Low-tier
Life: 120,000,000 health
Time Limit: 168 hours
Max Number of Participants: 75
Epic Loot Drop limit: 3 (+1 Summoner Epic Chance)
Chance at Epic Loot Drop starts at : 3,000,000
Chance at Two Epic Loot Drops starts at: 6,900,000
Chance at Three Epic Loot Drops starts at: 9,000,000
Max Guild Monster Points: 2,400,000
GOLD MEDAL Information: 1,000,000 damage, monster slain within 24 hours --> 2 Skill Points

Base damage (Average 972 damage per stamina point) up to 141 attack skill points
Siege Weapons
While fighting Thanatos Reborn, there are 4 siege weapons that can be launched to deal extra damage.
All Siege Weapons hit Thanatos Reborn and are unaffected by blocks and resistances.
*Thanatos Reborn has 120,000,000 HP
Name
Clicks
Damage Dealt

%HP Dealt*

Guardian Soldiers
10
1,500,000 dmg
150,000 dmg/click
1.25 %
0.13 % per click
Shadow Archers
20
2,500,000 dmg
125,000 dmg/click
2.08 %
0.1 % per click
Dwarfen Warriors
45
3,000,000 dmg
66,667 dmg/click
2.5 %
0.06 % per click
War Catapults
75
5,000,000 dmg
66,667 dmg/click
4.17 %
0.06 % per click
Totals
150
12,000,000 dmg
80,000 dmg/click
10 %
0.07 % per click
After the 4th weapon launches, the list of weapons is blanked out and the sequence repeats.
Battle Lore
Thanatos Summoned
N/A
Thanatos Defeated
You slayed Thanatos, the Reborn! However, you have a feeling he will be back..
Rewards After Slaying Thanatos
Common

 Drops

Rare

 Drops

Epic

 Drops

Epic Summoner

 Drops
Loot Damage Threshold
1 Epic Drop = 6,000,000 99%
2 Epic Drops = 9,000,000 99% 
3 Epic Drops = 12,000,000 99%
This data is derived from user contributions to this spreadsheet . Please consider visiting and updating for accuracy improvements.
There are some instances where a player with over 6,000,000 damage did NOT receive an epic drop.
CaHOD user: - I have recieved Spinal blade @ 5.5mill Damage.
HoD User: 7.7 mil dmg drops 2 epics as well
Projected Droprate Percentages
Loot
Percentage

Dragons Call
Necroscale Carapace
Swiftspined Boots
Dragonguard Helm
Serpentwine Signet
Claw of Thanatos
Spinal Blade
Necrotic Heart


%
%
%
%
%
%
%
%
Notes
Thanatos, in Greek mythology, is the personification of Death (not to be confused with Hades).
Ad blocker interference detected!
Wikia is a free-to-use site that makes money from advertising. We have a modified experience for viewers using ad blockers

Wikia is not accessible if you've made further modifications. Remove the custom ad blocker rule(s) and the page will load as expected.