Straight from Castle Age
Gehenna, the Fire Elemental!
September 7, 2010 by
The fight with Mephistopheles has ended but Valeria is still in a state of strife. Just when you were hoping things would return to normal, a disaster strikes! Defeat Gehenna, the Fire Elemental, before it is too late! Summon the monster through Gifts!
We have also introduced new Monster Achievements for Gehenna and have started ranking guilds based on Monster Battles!
Coming soon we should have something up for guild battles so stay tuned.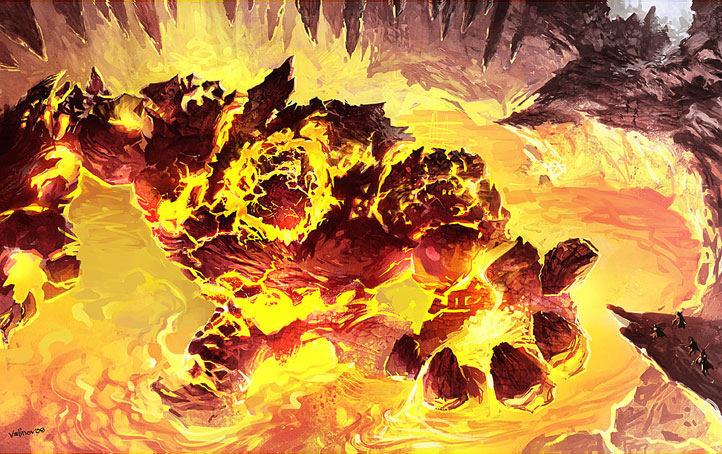 Random Information
New Alchemy: Lava Orb and Crown of Flames

Lava Orb [3 attack, 4 defense] - ingredient to summon Gehenna
Crown of Flames [33 attack, 32 defense]
New feature: RAGE METER

As you hit the monster continuously, the Rage Meter fills.
Once it reaches 100%, you get a bonus 5% damage for each attack you do.
This bonus does fade if you leave the monster alone for 1 hour and you will need to refill the Rage Meter.

Please do not neglect the party health in order to fill your rage meter.

It takes a while for the meter to empty - it will not empty if you hit with energy once, twice, or even five times.
Item Bonuses for generals

Bonecrusher: +2 attack to Sano
Lava Plate: +2 defense to Sano
Galvanized Helm: +2 defense to Garlan
Gauntlet of Fire: +2 stamina when Dante is equipped
New Achievement

Slay Gehenna 5 times with a minimum of 1,000,000 damage+def to receive 5 Favor Points

It is not recommended to stop at that output though. Do 6,000,000 or more so as to be not a burden to your team.
Guild Achievements: Monsters

Receive Points for your Guild whenever you take down a monster.
The amount of points you receive depends on your activity against monster you took down.
You can see how your Guild ranks against others by going to your Guild page.
Other Updates
Epic Quests are now officially released.
See also
Ad blocker interference detected!
Wikia is a free-to-use site that makes money from advertising. We have a modified experience for viewers using ad blockers

Wikia is not accessible if you've made further modifications. Remove the custom ad blocker rule(s) and the page will load as expected.