Straight from Castle Age
Heaven!
May 19, 2010 11:24 PM by Vulcan (Castle Age page album post)
After your battle with the Death Knight Skaar, you are finally able to return home to Valeria. However, everything is in ruins. What has happened? Find clues and get to the bottom. Your answer lies in the Kingdom of Heaven!
Random Information
The Kingdom of Heaven is at hand. And apparently it's not the eternal bliss everyone was promising.
Unlike the other non-Demi Quest quest areas, there are 10 major quests in this area to complete. We assume that each of these 10 quests will have 2 sub-quests.

Unlike the other non-Demi Quest quest areas (where you need to get 100% influence in 4 out of the 5 quests to unlock the boss battle), the Kingdom of Heaven requires you to get 100% influence on all 10 quests.

The "Coming Soon" tab is no longer under "Quest" area, but is still there under the "Atlantis" area.
The Boss to this area is Azriel, the Angel of Wrath. Who is the same person as the Onslaught Chest's epic hero: Azriel.
There seems to be no Crystal dropped from this quest area.
There is a new Soldier to buy in the Soldiers section of your Town, the Seraphim Angel. It has 24 attack, 21 defense, costs 2,225,000,000 gold to purchase (repeat: 2 billion, 225 million gold). It has an upkeep of 250,000 per hour. It is a requirement for some of the Quests in the Kingdom of Heaven.
New Gift: Mystery Artifact
New Alchemy Recipe: Sophias Battlegarb: Components can be found in the new Mystery Artifact gift
Sohpias Battlegarb gives +4 energy when Sophia is equipped as your active general.
In case you missed it, there is new art for many of the Regular Units.
Land of Fire quests now are accessed from a map.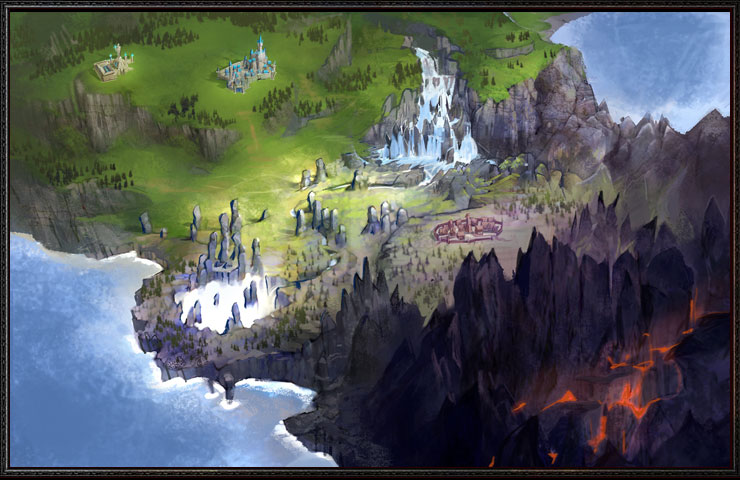 Ad blocker interference detected!
Wikia is a free-to-use site that makes money from advertising. We have a modified experience for viewers using ad blockers

Wikia is not accessible if you've made further modifications. Remove the custom ad blocker rule(s) and the page will load as expected.