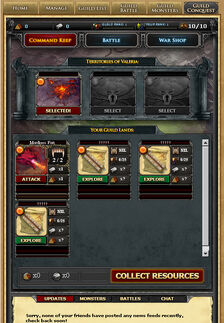 December 6th, 2011
Guild Conquest
Today, Tuesday December 6th at 6:00PM PST our conquered lands will be vulnerable for attacking. Time to Protect your Land.
Clicking the Battle Link inside the Conquest Feature will showcase various lands open for attack, once the feature is live.
Padaxan stated he will post more comprehensive information once the feature is rolled out.
See Also
Ad blocker interference detected!
Wikia is a free-to-use site that makes money from advertising. We have a modified experience for viewers using ad blockers

Wikia is not accessible if you've made further modifications. Remove the custom ad blocker rule(s) and the page will load as expected.