Straight from Castle Age!
General Sale!
Starting today through November 27th we will be discounting all Favor Generals (excluding Katherine, Sahar, and Jezale) and their gear by 20%.
Additionally, players will start receiving a +10% bonus to their general's stats if they own at least 3 pieces of that general's equipment set.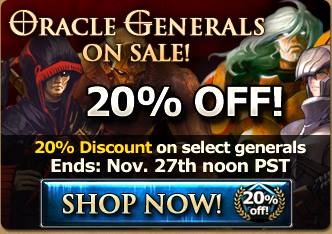 Ad blocker interference detected!
Wikia is a free-to-use site that makes money from advertising. We have a modified experience for viewers using ad blockers

Wikia is not accessible if you've made further modifications. Remove the custom ad blocker rule(s) and the page will load as expected.