Straight from Castle Age!
New Quest! Spell Forge!
Many years have passed since your battle with Azeron but a new adventure awaits!
Also, new Spell Forge to imbue your weapons!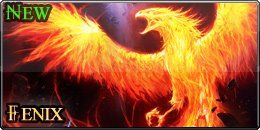 Random Information
New Quest Land: Land of Fire (III)
New Boss Monster: Fenix, Risen From Ashes
New Feature: Forge
New drop-down main menu
Quick access to Tower Monsters and Festival Battles in new menu
See Also
Site News
Ad blocker interference detected!
Wikia is a free-to-use site that makes money from advertising. We have a modified experience for viewers using ad blockers

Wikia is not accessible if you've made further modifications. Remove the custom ad blocker rule(s) and the page will load as expected.