Straight from Castle Age!
Limited New Years Gift!
January 04, 2011 by Vulcan
Limited time gift to kick-off the New Year! Collect gifts to summon a hero! Only available until January 10th, 2012 so get it quick!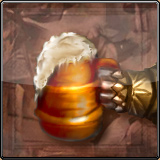 Random Information
New collectible general: Dexter the Drunk!

Celebrate the new year by exchanging ales with friends and collecting enough to entice Dexter the Drunk to join your cause!
The drunk version of the Monthly general Dexter, his drunk state has lower stats, different ability but has 15 Divine Power! Perfect for those who are non-chest adventurers as they can get a divine general for FREE!

This limited time offer was supposedly only available until January 10.
See Also
Ad blocker interference detected!
Wikia is a free-to-use site that makes money from advertising. We have a modified experience for viewers using ad blockers

Wikia is not accessible if you've made further modifications. Remove the custom ad blocker rule(s) and the page will load as expected.