This is how the Castle Age game starts...[1]
Intro
After weeks of travel, you've finally returned home. Viewing from a hill overlooking your village, a horrific scene nearly stops your heart. You gasp as you realize that your village... is burning...Rushing into town, you see four figures locked in combat with fierce Orcs. Who do you aid?
REUNION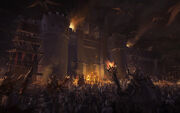 Together you engage in a fierce battle and force the orcs to retreat. In the moment of victory, your battle partner falls to one knee, lowers their head, and says, "Welcome home, Commander." You smile as you realize that this is one of your comrades from your military days.
The moment is short-lived, however, as you see a feminine figure in purple garb approaching.
CELESTA THE HEALER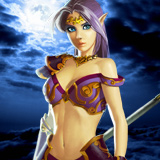 Celesta: You have returned!
But a little too late, it seems. They found what they came for, an ancient holy relic from our temple...
We must retrieve it at all costs! Come, I'll explain on the way...

References
↑

Based on MySpace version currently.
Ad blocker interference detected!
Wikia is a free-to-use site that makes money from advertising. We have a modified experience for viewers using ad blockers

Wikia is not accessible if you've made further modifications. Remove the custom ad blocker rule(s) and the page will load as expected.