Ad blocker interference detected!
Wikia is a free-to-use site that makes money from advertising. We have a modified experience for viewers using ad blockers

Wikia is not accessible if you've made further modifications. Remove the custom ad blocker rule(s) and the page will load as expected.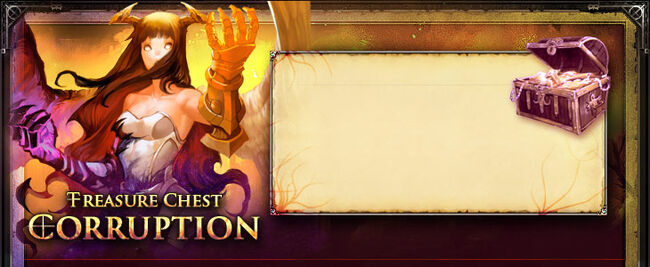 The Corruption Chest is one of the Favor Point treasure chests offered in Castle Age. It costs

 30 points for one item pull from the chest and

 80 points for 3 pulls. It is unlocked at Level 340.
This article is about a newly introduced element and may be missing information.


If you wish to help, please examine what is missing and add it to the page.
Epic Pulls
Jera
Hero
Attack: 55
Defense: 47
+damage dealt and +% to Damage Rune in battles
(Divine Power = 60)

Krystalia
Hero
Attack: 48
Defense: 52
Reduce damage by 5 and 2.5% of Attacker's Damage Rune in Guild Battles

Kang
Hero
Attack: 50
Defense: 48
+3% Critical Chance on Monsters

Mischa
Hero
Attack: 44
Defense: 55
Heal for additional X and +Y% to health rune
Rare Pulls
Vancy
Hero
Attack: 30
Defense: 28
+ 230 Attack against Monsters

The Fallen Spear
Weapon
Attack: 38
Defense: 38
+6 Attack to Jera

Tora
Hero
Attack: 27
Defense: 26
Deflect X damage and Y% of your damage rune in battles

Frostwake Signet
Amulet
Attack: 30
Defense: 40
+9 Max Health when Mischa is equipped
Uncommon Pulls
Monks Vestments
Armor
Attack: 30
Defense: 27
+3 Defense to Kang
1 slot

Crystallite Mace
Weapon
Attack: 20
Defense: 25
+4 Attack to Krystalia

Beastbane Axe
Weapon
Attack: 25
Defense: 18
+3 Attack to Vancy

Crescent Amulet
Amulet
Attack: 20
Defense: 28
+6 Energy when Tora is equipped

---

The Fallen Crown
Helm
Attack: 32
Defense: 26
+4 Defense to Jera

Frostwake Wand
Weapon
Attack: 24
Defense: 19
+3 Attack to Mischa

Monks Slippers
Boot
Attack: 9
Defense: 0
+3 Defense to Kang

Crystallite Gauntlets
Gauntlet
Attack: 12
Defense: 15
+4 Defense to Krystalia
Common Pulls
Beastbane Plate
Armor
Attack: 16
Defense: 20
+3 Defense to Vancy

Monks Bracers
Gauntlet
Attack: 10
Defense: 9
+3 Attack to Kang

Crystallite Helm
Helm
Attack: 15
Defense: 17
+3 Defense to Krystalia

The Fallen Signet
Amulet
Attack: 15
Defense: 15
+8 Energy when Jera is equipped

---

Crescent Staff
Weapon
Attack: 14
Defense: 18
+2 Attack to Tora

Frostwake Slippers
Boot
Attack: 0
Defense: 6
+2 Defense to Mischa

The Fallen Bracers
Gauntlet
Attack: 8
Defense: 8
+2 Attack to Jera

Monks Ring
Amulet
Attack: 15
Defense: 14
+3 Attack to Kang

---

Frostwake Robes
Armor
Attack: 15
Defense: 19
+2 Defense to Mischa

Beastbane Greaves
Boot
Attack: 4
Defense: 2
+3 Stamina to Vancy

Crystallite Plate
Armor
Attack: 15
Defense: 19
+2 Defence to Krystalia

Crescent Helm
Helm
Attack: 15
Defense: 20
+2 Defense to Tora
Statistics
There are 28 different items you can acquire from this chest. There are 4 tiers of item rarities: Common, Uncommon, Rare, and Epic.
| Chances the chest is: | Specific rarity | Specific item | Hero | Soldier | Weapon | Shield | Helmet | Armor | Amulet | Glove | Boot | Magic | Alchemy Item | Forge Gem |
| --- | --- | --- | --- | --- | --- | --- | --- | --- | --- | --- | --- | --- | --- | --- |
| Epic | 5% | 1.25% | 5% | 0% | 0% | 0% | 0% | 0% | 0% | 0% | 0% | 0% | 0% | 0% |
| Rare | 10% | 2.5% | 5% | 0% | 2.5% | 0% | 0% | 0% | 2.5% | 0% | 0% | 0% | 0% | 0% |
| Uncommon | 30% | 3.75% | 0% | 0% | 11.25% | 0% | 3.75% | 3.75% | 3.75% | 3.75% | 3.75% | 0% | 0% | 0% |
| Common | 55% | 4.58% | 0% | 0% | 4.58% | 0% | 9.17% | 13.75% | 9.17% | 9.17% | 9.17% | 0% | 0% | 0% |
| Any Rarity | 100% | N/A | 10% | 0% | 18.33% | 0% | 12.92% | 17.5% | 15.42% | 12.92% | 12.92% | 0% | 0% | 0% |
See also